Here is the character thread for Amy Rose. (Icon for this thread is from
Nibroc.Rock
)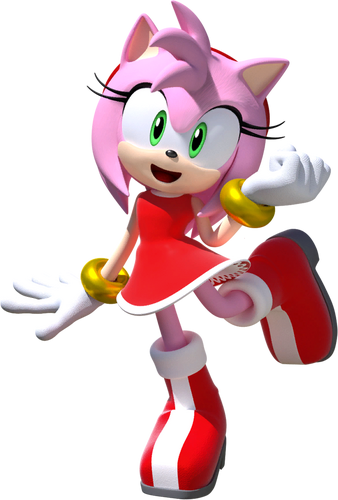 Who is Amy Rose?
Amy Rose is a pink hedgehog who first appeared in Sonic CD. At first, she was a tomboyish young girl that loved fortunes and telling tarot cards who met Sonic in Little Planet. Since then, she has had a major crush on the blue hedgehog. In Sonic the Fighters, she used the Piko Piko Hammer as her weapon. Starting with Sonic Adventure to Lost World, she has a more girlish personality and obsessed with Sonic to a point where she constantly chases Sonic and wanting to marry him. From Sonic Lost World and beyond, she seems to have suddenly matured and not as obsessive. 
What can she do?
As a hedgehog, Amy has incredible speed and can even catch up to Sonic. She can summon the Piko Piko Hammer out of nowhere which allows her to send enemies flying and allow her to fly herself by swinging it. Using her tarot cards, she can foresee the future and even curse others.
Theme song?
There is "My Sweet Passion" from Sonic Adventure and "Follow Me' for Team Rose from Sonic Heroes.